Goal Setting in Sport: Part 1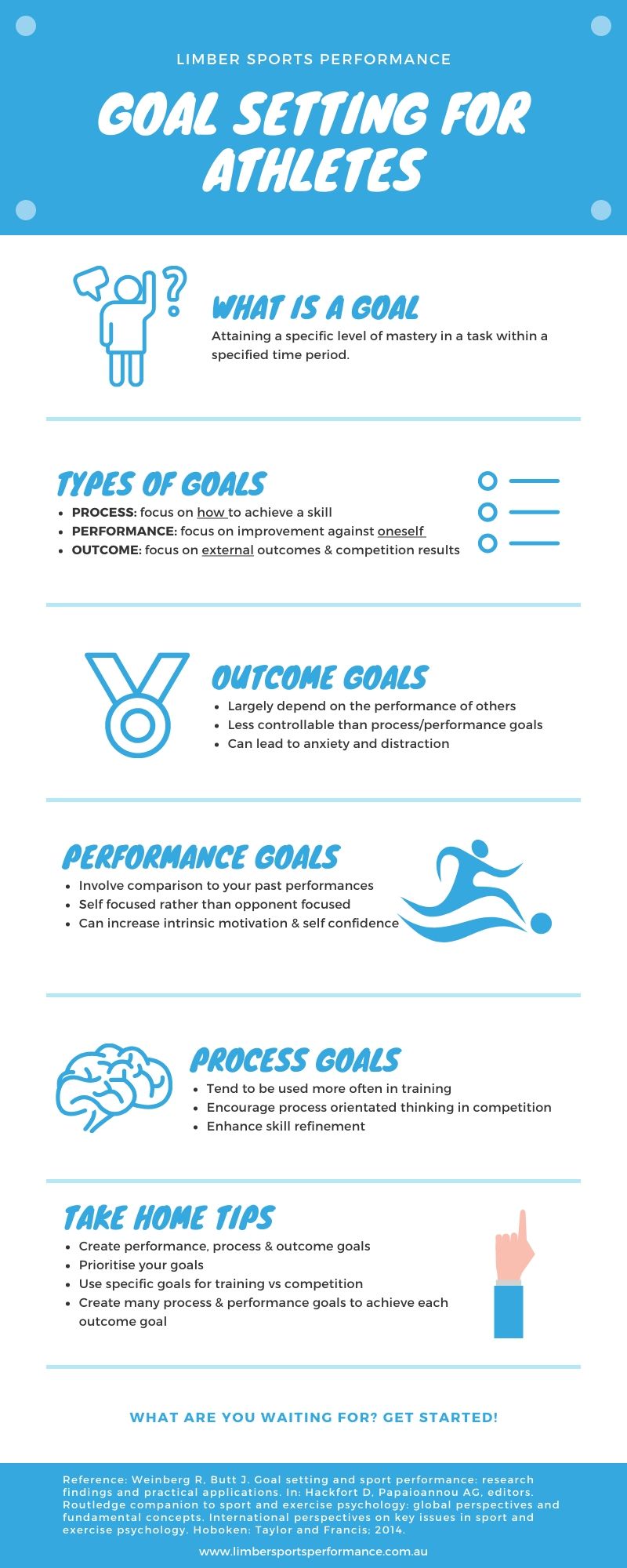 Goal Setting Strategy
The skill of setting the right type of goals and developing strategies to achieve them is often not well developed in both athletes and coaches. Subjective and objective goals can be used in the goal setting process but it objective goals are easier to track as they can be quantified. As we established, the most commonly discussed goals are outcome, performance and process goals, so let's discuss these in a bit more detail.
Outcome Goals
Outcome goals tend to revolve around a sporting result such as winning or medaling in an event. The risk with outcome goals (although they can be an important motivator) is that if they consume your attention they can become distracting and create performance anxiety. Secondly, achieving outcome goals largely depends on the performance of other competitors which is outside of your control as an athlete or coach.
Performance Goals
Performance goals tend to encourage achievement of personal bests or PB's that in turn may help the athlete achieve an outcome goal. A performance goal could be improving your scoring percentage or the accuracy or speed of a particular sporting skill. 
Process Goals
Process goals break down the goal setting process further. In order to gain a PB or nail a performance goal, the execution of a particular part of a skill or movement pathway may need attention.  For example, a lack of segmental rotation could be limiting your tennis serve, golf swing or batting power. Process goals are helpful to guide training sessions and to hone focus in stressful competition situations.
Reflection
Set one outcome goal for this year (eg: a result-based goal)
Set several performance goals which would be essential to achieving your outcome goal (eg: what key aspects performance lead to success?)
Set several process goals that you would need to work on in training and then perform in competition to achieve those performance goals (eg: technical skill components or other preparation strategies)
Goal Setting Activity
Create a "Goalscape" using the Goalscape software package. Your outcome goal will be in the middle, your performance goals on the next layer and your process goals on the outer layer. The activity can be done by both athletes and coaches. 
Sign up for a free account at www.goalscape.com to complete a "Goalscape" online
When setting your goal (outcome goal) and sub-goals (performance & process goals) you will need to consider their importance (%), whose involved in the responsibility of achieving these goals (e.g. coaches, parents, team mates etc) and set a time frame for each goal.  
Once completed, save your "Goalscape" as a PDF so you can review your progress on a weekly basis.
In the next goal setting infographic you will learn more about SMART goal setting and how setting specific, measurable, achievable, relevant and time-bound can further improve your goal setting skills.
References
Weinberg R, Butt J. Goal setting and sport performance: research findings and practical applications. In: Hackfort D, Papaioannou AG, eds. Routledge companion to sport and exercise psychology: global perspectives and fundamental concepts. Hoboken: Taylor and Francis; 2014.